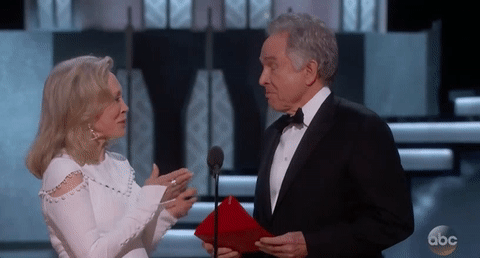 What a TRAIN WRECK!
For those of you that didn't see it, the Academy Awards Broadcast on ABC ended with the biggest imaginable gaffe on the largest possible stage. Approximately 33 million people saw Warren Beatty and Faye Dunaway announce the WRONG winner of best picture (it was actually Moonlight, not La La Land as announced).
Here's what went right, though:
They admitted the mistake. As painful and embarrassing as it must have been, someone climbed up onto that stage and told them what had happened.
The La La Land folks were extraordinarily gracious when told they weren't the winners. They didn't yell, scream, or throw their Oscar statuettes. They acknowledged the truth and graciously passed the spotlight to the producers of Moonlight.
They took the error seriously, but not more seriously than they should. Jimmy Kimmel cracked a couple jokes, blaming Steve Harvey and then himself. But they corrected the error and moved on. It was a terrible mistake, but no one died.
They did a post-mortem to figure out what went wrong and how they could avoid the mistake again. In a statement almost immediately after the fiasco, PricewaterhouseCoopers said they were "currently investigating how this could have happened, and deeply regret that this occurred."
If you find yourself in the middle of a train wreck in your business, don't hide it. Don't cover it up and pretend it didn't happen. Be gracious when you find out what has happened, even if it's not your fault. Take your train wreck seriously, but not more seriously than it warrants. Finally, figure out what happened so it doesn't happen again. Every train wreck is a learning opportunity if you'll make it one. And when you do, you'll have a much better chance of making things right and moving forward with your life and business.